The Diffucult Life Of...

Tupac Amaru Shakur

On June 16, 1971, Afeni Shakur gave birth to Lesane Crooks, who would later become one of America's most controversial and loved people. Lesane changed his name to Tupac Amaru Shakur for a reason. "Tupac Amaru" was the name of the rebels in the early century and "Shakur" is a word that means "Thankful" in arabic. He was born and raised in Brooklyn, NY and always had a love for the performing arts. Coming from a society where it was very hard to make dreams come true, Tupac stood tall and let nothing come in the way of him and his goal. From there, he moved to Baltimore, MD to attend the High School for Performing Arts, where

he began writing poetry and rap. Tupac started gaining more intrest to find out about the life of the military minded philosopher Machiavelli. For some reason, Tupac was fascinated about the life of Machiavelli and compared his own life to that. Tupac could feel that he was finally taking his dream to reality. He moved to Marin City, CA, located near San Francisco, continuing to write and record rap. Finally, he had reached his goal when 2pac signed a record deal with Interscope/Deathrow records to persue his dream to be a rapper. From there, he realeased the albums "Strictly for my N.I.G.G.A.Z.", "2pacalypse Now", "THUGLIFE", "Me Against The World", and the gold platinum album "All Eyez On Me". "Me Against The World" reflects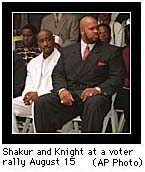 against the whole life of Tupac and in the hit single "Dear Mama" Tupac gives thanks to his mother who had struggled to make his future the way he wanted it. You could call that album some what a biography of Tupac Shakur. "All Eyez On Me" was a clean touch of the rapper's career and a more 'softer' version of his life. After "All Eyez On Me", Shakur decided to take his dream further and make his own recording label called Makaveli Records which was an individual part of Deathrow Records. Tupac had a movie career going as well. At that time, the movies he starred in were "Juice", Poetic Justice", "Bullets" and "Above The Rim". From Makaveli records, Shakur released an album under the new alias makaveli called "The Don Killuminati: The Seven Day Theory". This album is mostly to get revenge at the eastcoast rappers due to the shooting he was in after recording a song in new york in 1993 which he beleives was set up by the late Christopher Wallace aka Notorious B.I.G. Before releasing the "...Don Killuminati..." album, Shakur worked on a movie called "Gridlock'd". Unfortunetly, Tupac Shakur did not have the chance to see the success of neither the new movie or the album due to his tragic death.
-1997 MW Productions (C)

Have any comments, suggestions, or information? Email me at Ripx2pac@hotmail.com.

[ Home | 2pac Links | Mix Tapes | Death | Pictures | Lyrics | Timeline | Songs | News ]
[ Videos | Theories | Thanx | Link Me | Books | Newzletter | Hip Hop Links ]
1997 MW/IC Productions. All material on this page is the property of the creator, not AOL. Any unauthorized reproductions will be penalized by applicable laws. All rights reserved (C)